P-Ts
Profile

Hello people,
We have a
Passion for Fashion
.
We'd like to bring you Sprees!
So lets pamper yourself &
shop your hearts out!
Opened since
08 March 2008!
Passions' Online
Feel free to mail to us for any orders or enquiries or add us up in MSN for latest and quickest updates!
•
Passion-Ts@live.com
Poll/Adv
quick chats
tagboards
Advertisement
Please do not spam or be banned.
affiliates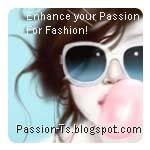 Email or tag us to be linked.